Eavestrough Cleaning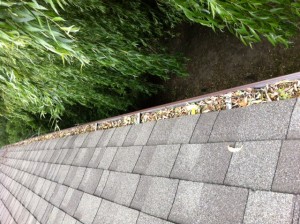 Cleaning Toronto Eavestroughs properly, is a very hard job to do. Maple Window and Eaves Cleaning has the experienced professional eaves cleaners that will clean and repair your eavestroughs in a timely cost-effective manner. With all the right equipment and care, we do it right the first time.
Maple Window & Eaves Cleaning will do a thorough inspection and cleaning of the interior of the eaves and check the downspouts for any blockage. If necessary blocked downspouts will be snaked out, or carefully dissembled, unblocked, and put back in place. Upon final inspection you can rest assured that the rain water will be flowing the way its supposed to be, protecting your home from damages.
Having clogged Eaves is a very messy business that will lead to many problems including severe water damage. Professional gutter cleaning twice a year can lengthen the lifespan of your gutter and will save you money and headaches in the short and long run.
Please contact us for a free estimate for Toronto Eaves Cleaning and Eavestrough Repairs Toronto today.